How can we help you?
Search Engine Optimization – SEO
Your First Step Towards Digital Success
The search landscape is constantly evolving. To rank high on search engines, you need to invest in the right SEO services tailored to your business' needs, demands and target customers. Simply relying on old SEO tactics is not enough to maintain a robust online presence — you need to find a reliable SEO agency that can take your digital marketing efforts up a notch.
VIkram Analytics is a customer-focused SEO company. Our SEO experts work closely with our clients to develop personalized SEO strategies that drive long-term profitability. By using a proven, efficient and effective methodology, we are able to create high-quality, measurable results.
Our SEO company utilizes a methodology which allows us to build a robust campaign framework that provides value for your business. Team Vikram's SEO approach is built around the following processes: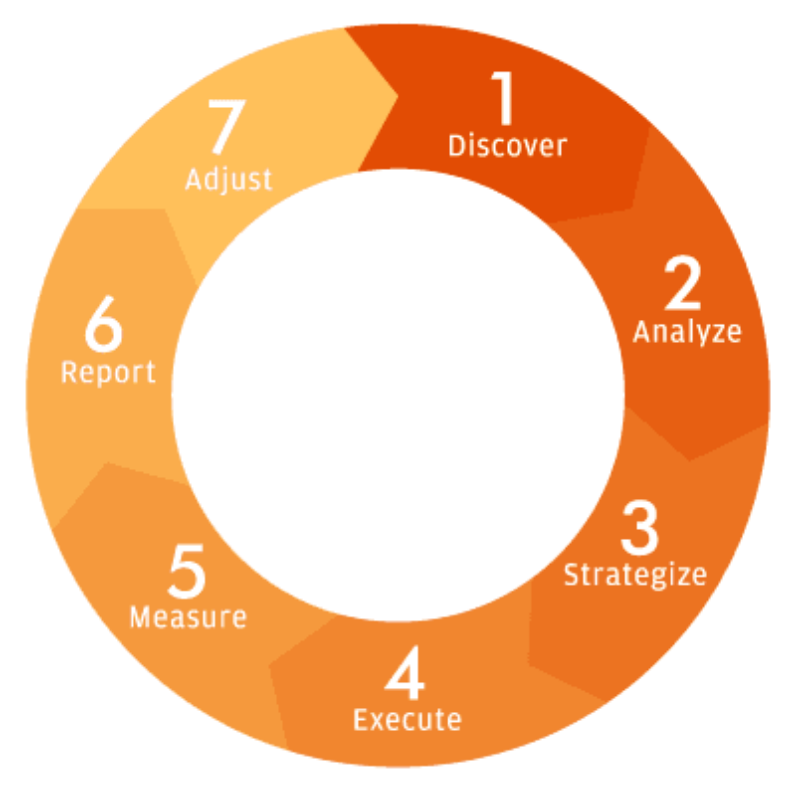 1. DISCOVER
As your search engine optimization company, we take the time to understand your business needs, demands and expectations. During the discovery phase, we set up a meeting with your key company stakeholders and conduct an initial site review. Afterwards, we identify your key performance indicators (KPIs), determine your conversion path and perform extensive keyword research. Doing so allows us to gain in-depth knowledge of your company's processes, site purpose and goals.
2. ANALYZE
The next step is analysis, which covers competitive benchmarking, in-depth site audit, site analytics review and link risk assessment. In this stage, we collect and analyze all your business data to determine the factors that affect your digital presence. We look at your historical traffic patterns, on-site technical issues, competitor's backlink strategies and link building tactics. We utilize the analytics results in formulating the best approach for your SEO.
3. STRATEGIZE
Once we've identified your marketing gaps and opportunities, our SEO experts will create a 60-day strategic online marketing plan (SOMP). This includes your campaign goals, expected outcomes for each marketing channel and estimated completion time. During the first month of your campaign, our SEO agency prioritizes the most critical aspects of your SEO. This is to ensure all our SEO efforts deliver immediate, targeted results.
4. EXECUTE
In this phase, we start executing the SOMP. We optimize your web pages and blog posts with high-performing keywords, improve your site structure and manage your business listings. Our SEO company also leverages a multiple channel strategy to improve your overall SEO results. We implement social media management campaigns and reach out to third-party websites to increase your online reach.
5. MEASURE
From the moment you sign up with our SEO company, we set up a tracking system that allows us to monitor your online progress and understand the impact of your SEO campaign. We monitor and analyze your analytics, keyword rankings and KPI. Our SEO experts also look at your organic traffic, bounce rate, conversion rate, local visibility and click-through rates (CTRs). By monitoring your SEO efforts, we gain actionable insights and improve your optimization strategies.
6. REPORT
Our SEO team schedules regular consultations and monthly reports with your project managers to keep you up-to-date with your campaign progress. During our consultation, we present a comprehensive report that provides an overview of your site performance. This includes your KPI trends, overall traffic and ranking. Every month, we create a new 90-day roadmap, so you know exactly how your campaign is doing and what to expect.
7. ADJUST
As part of our ongoing SEO efforts, we continuously adjust our optimization strategies based on the latest algorithm updates and market trends. Search engines are dynamically changing and industry demands are continuously evolving. As such, we take a proactive approach to ensure your website ranks high on search results. Trust our SEO team to make the necessary adjustments and keep you informed of your campaign progress at all times.
Social Media Management
Trends and Tactics You Can Trust to Deliver Qualified Leads
Social Media Marketing
Social platforms let you touch base with your target audience and promote your offerings at digital speed. But there's a right way to boost your brand visibility and achieve your business goals, and it's called social media marketing. Our social media management services include this process, which combines market research, strategy-building, consumer engagement and campaign-based social media marketing management.
Social Media Content Writing
Research suggests that over 50 percent of consumers head off to social media to research products. Capture their attention with high-value, engaging posts crafted by Thrive's social media content management and creative pros. We design organic social content that attracts interest and influences decisions among your followers, while paid social content drives traffic and potential leads to your site.
Social Media Advertising
Choose the social strategy that keeps 63 percent of consumers clicking: paid social advertising! Leverage this lucrative trend and devise the best social media management game plan with Thrive experts. We select platforms where your target audience is found and create custom-built ads that appeal to them. Ad campaigns are aligned with your budget, turning clicks into purchases and maximizing your return on ad spend (ROAS).
Social Media Brand Management
What is social media management without brand management? From Facebook management to Instagram management, Team Vikram plans, executes and monitors organic and paid brand campaigns on multiple platforms. Our social media management company's custom solutions enable you to establish a positive brand image, amplify your reach and ramp up sales and profits.
Social Media Follower Growth
Forrester data shows that 80 percent of customers want to interact with brands using social media. If you want to expand your market and enlarge your social following, enhance future results with our sustainable growth strategy. You can rely on our Facebook, Twitter and Instagram management services for an integrated approach that spans social media invite emails and website follower growth buttons.
Social Media SEO
Point visitors to your site or secure visibility for your links in social search results through proper social media optimization. With guidance from your dedicated social media manager website, links are distributed on your social profiles, increasing exposure and extending lifespan. Social media management firms can help you leverage the fact that search engines can also index your organic post if they are relevant to people's queries.
Video Production
Feature videos across your accounts to assist users in understanding your product or service. Videos are a profitable addition to your marketing arsenal, and our in-house team is here to handle full production, which other YouTube management companies tend to outsource. We have masters of the trade to conceptualize, film, edit and finalize your ad, demo, explainer, event highlights or testimonials.
Social Media Reputation Management
Build a positive brand identity by maintaining goodwill with all stakeholders, responding to reviews and growing your following on social media. Incorporated into our solutions is online reputation management (ORM), which allows you to shape public perception on social platforms. Gain confidence as we gather votes of approval from your customers – a vital component of any business social media management strategy.
Branding & Marketing
Need help with branding and marketing to reach out to a larger audience? We can help you create a brand presence and marketing efforts.
Team Vikram is committed to relationships and results. As your marketing partner, we show you how a well-thought-out marketing strategy plan can improve your bottom line and boost your entrepreneurial confidence.
Our strategy developed a growth formula to ensure our combined digital marketing ideas do not just attract leads but also turn customers into brand advocates:

STRATEGIZE
The first and most significant part of the growth formula is the marketing strategy development.
Why do we start with strategy? We believe that a strong business relationship begins with knowing our clients' Goals and identifying marketing gaps and existing digital performance. To support your digital transformation, goal achievement and online growth, creating a digital marketing plan tailored to your unique needs and capacity is necessary.
We determine your goal from the get-go and identify your target audience to create all-inclusive web marketing strategies that capture every stage of your sales funnel and address your marketing challenges.
01 ATTRACT
We determine your goal from the get-go and identify your target audience to create all-inclusive web marketing strategies that capture every stage of your sales funnel and address your marketing challenges.

01 ATTRACT
Attracting your ideal client segments is the initial goal of the development of a digital marketing strategy.
Our internet marketing strategy consultants layout your customer journey map and determine the necessary channels and approaches to lure prospects towards your brand.
02 CONVERT
Once you capture your target audience's interest, the next step is to re-engage your followers and convert site visitors into leads.
Our digital marketing strategy agency enumerates the online marketing components and step-by-step processes you need to prioritize to improve your lead conversion rate.
03 CLOSE
The closing stage is where qualified leads are transformed into paying customers.
To close your sales-qualified leads (SQLs), we devise an internet marketing plan, which includes actionable insights and digital marketing techniques that highlight your unique value proposition (UVP) and move prospects to the bottom of your sales funnel.
04 DELIGHT
Digital marketing revolves around providing outstanding brand solutions and continuously engaging your customers.
To help you retain loyal clients and turn them into brand advocates, we create long-term online marketing strategies focused on providing personalized customer experiences.
This part includes: 01
SEO audit service
Social media marketing
SEO content marketing
Pay-per-click advertising
This part includes: 02
Landing pages
Calls-to-action (CTAs)
Customer-centric
content marketing
This part includes: 03
Lead nurturing
Email marketing
Social media monitoring
Marketing automation
This part includes: 04
SEO
Social media monitoring
Reputation management
Email marketing
The goal is to increase your month-over-month (MoM) growth rates and launch successful internet marketing strategies that build communities of brand advocates and promoters. As a digital strategy firm, we make this possible by taking a careful approach to online marketing strategy planning.
Have a Project in mind?
We can help you bring your ideas to life. Let's talk about what we can build and raise together.